ROAR line boring machines support boring diameters from 50 to 1000 mm. Special mounting brackets, spherical bearings, self-centering setup cones, movable rotational drive and feed units simplify setup and allow the tools to work in space constraint jobs. Tool holder are made with high quality material, for boring bar up to 60 mm are tool pocket is cut by wire cut to achieve high accuracy
Tool holder are made with high quality material, for boring bar up to 60 mm are tool pocket is cut by wire cut to achieve high accuracy
By applying the skills learned over a number of years, and continuously developing equipment for the tasks required, We lead the development of special purpose machines and techniques for the accurate machining of plant and equipment onsite.
PORTABLE LINE BORING MACHINE
Boring machine, device for producing smooth and accurate holes in a workpiece by enlarging existing holes with a bore, which may bear a single cutting tip of steel, cemented carbide, or diamond or may be a small grinding wheel. Single-point tools, gripped in a boring head attached to a rotating spindle, are moved circularly against the sides of the existing holes. The diameter of the hole swept out by the tool is controlled by adjustment of the boring head.
Line boring machines are used on a wide range of projects, with some common examples including: Excavator buckets, Transfer gearbox housings, Stern tubes and rudder bores in the shipbuilding industry, Drive shaft housing boring, A-frame supports, Hinge pins, Gearboxes, Turbine casings in the power generation industry, In addition to machining parallel bores, line boring machines can also be used for tapering holes and for machining the outside face of the work piece using a facing head.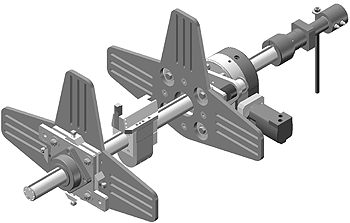 RB SERIES
Model
RB 45
RB 50
RB 60
RB 90
RB 150

BAR Dia/mm

45
50
60
90
150

CAPACITY

50 - 250
60 - 300
70 - 350
150 - 500
200 - 1000

STROKE

200
250
300
Length
Length

LENGTH

1500
2000
3000
3500
3500

RPM

0 - 60
0 - 60
0- 50
0 - 50
0 - 50

FEED

0 - 0.2 mm/Rev
0 - 0.2 mm/Rev

POWER

Electric
Electric
E/P/H
E/H
E/H

ACCURACY

H7
H7

SURFACE FINISH

1.6 Ra
1.6 Ra

FACING ARM

Optional
Optional
E - Electric, H - Hydraulic,P - Pneumatic,

CUSTOM SIZES ON REQUEST